Quick glance at Ampere eMAG processer
Ampere eMAG processer
ARM is a family of bi-endian fixed-length instruction set architectures and extensions. The ARM architecture is widely used in the mobile and embedded markets. Today, ARM-based implementations are designed by a number of companies including ARM Holdings, Qualcomm, Apple, and AppliedMicro.
eMAG is a family of 64-bit high-performance ARM server microprocessors designed by Ampere Computing for the data center. Based on emag_wiki, in March of 2019, eMAG is still in its first generation.
1st generation of eMAG is called Ampere eMAG 8180 64-bit Arm processor. The detail specification could be viewed at specification .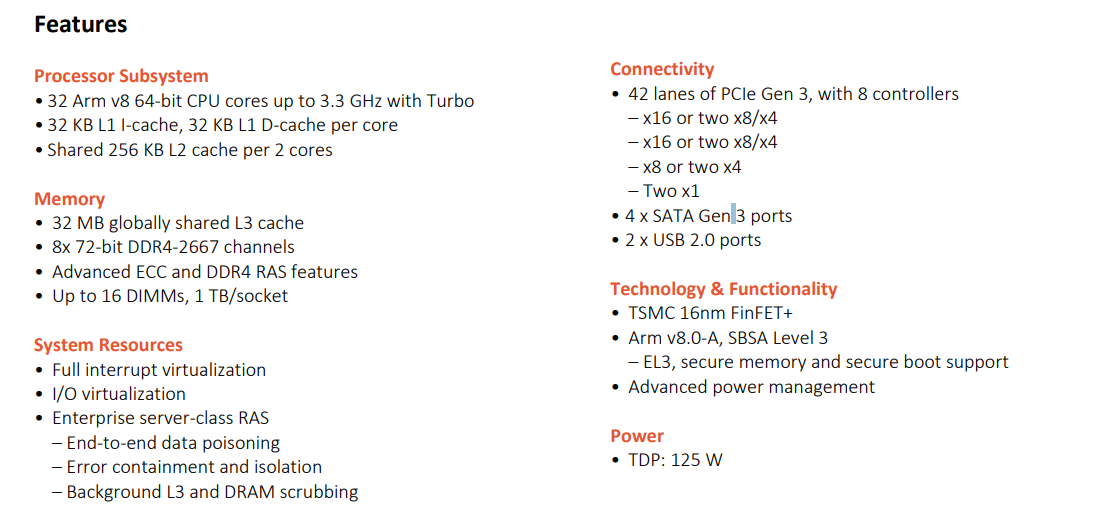 In March 20, 2018, Ampere computing release their report at OCP Summit. In that report, they compared their server rack with intel-chip usage server rack. They archieved from 15%, 35%, 20% improve on Perf/Watt, Perf/Dollar, Perf/Rack compared with Intel Xeon Gold. Which is very impressive. The following figure is taken from their report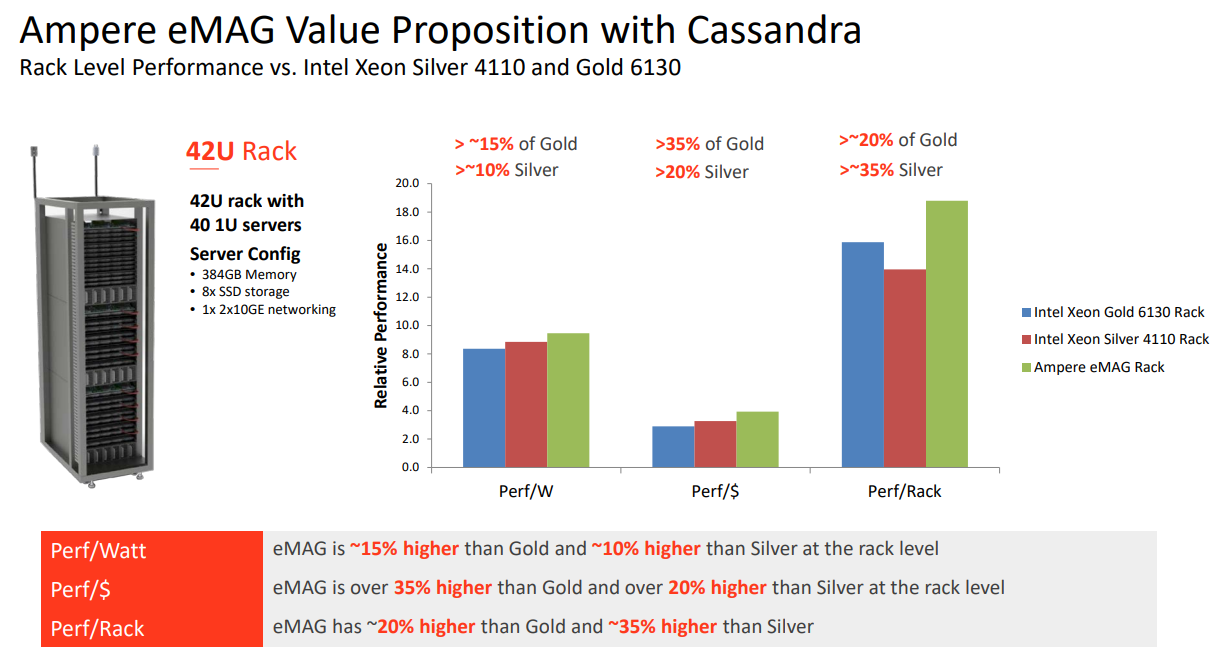 Despite the big improvement in Perf/Watt, Perf/Dollar and Perf/Rack, the cost of eMAG chip usage server rack is only about 1/2 or 1/3 compared to Intel chip usage rack. source: youtube .
The biggest disadvantage of Ampere eMAG is that they're still very young processor. Increasing Perf/Watt, Perf/Dollar and Perf/Rack is good but there're 2 very important factors that's still in a mist.
stabality (heat,…)
ecosystem
Conclusion
For decades, Intel dominated the server/cloud machine marketplace. Entirely server ecosystem are built for intel chipset. Switching from Intel into Arm-chipset is a big-risk move and will cost tons of money as well. This will make large corp hesiate and slowly but surely kill the Ampere eMAG
Let's not forget the trading war between China and America. Sooner or later, the America will ban all the selling of Intel chipset to China's corp (see some articles). The china is in an urge to find a replacement for Intel processor. So that should be one of many reasons why Lenovo coperate with Ampere computing to develop and spear out the Ampere eMAG processor.